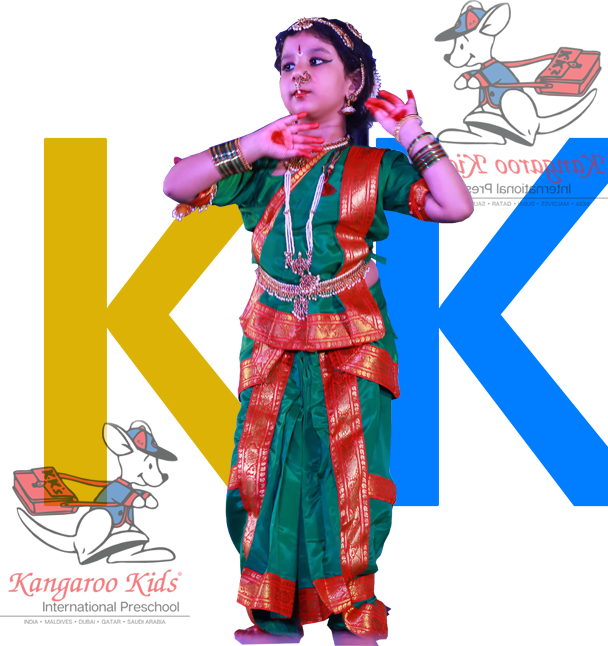 Kangaroo Kids
Pre School in Banjara Hills, Hyderabad
A Brief Profile
Kangaroo Kids Preschool in Banjara Hills has a capacity to house around 375 children in the age group of 1.6 to 5.5-year-olds. It is one of the first pre schools to set and maintain a benchmark in providing an optimum teacher-pupil ratio
Kangaroo Kids Preschool, Banjarahills, Hyderabad is a venture of M/s.MM Dawn Education Private Limited, established under the aegis of Kangaroo Kids Education Ltd., Mumbai, an innovative, vibrant, creative and energetic organization which continuously strives through research and practice to wholeheartedly serve children and make every learning moment joyful, effective and a meaningful one.
The entire programme at Kangaroo Kids Preschool in Banjara Hills is designed to help children develop and expand their skill sets, make them independent and build a sound social, emotional and academic base. An interactive and engaging learning environment is provided for the students equipped with necessary facilities, customised curriculum and trained dedicated staff members.
The institution is headed by Ms Mani Chandrika Chalasani. She along with 4 coordinators and 45 teachers ensures that every child in the preschool is benefited to the optimum from the innovative and holistic approach of imparting education.
Playgroup: 01:06
Nursery: 01:08
PP I: 01:12
PP II: 01:12
The teacher-pupil ratio at the various levels allows for a smooth transition of a child from dependence to interdependence and finally to independence. The sequence followed goes from weakness to strength and to greater strength unleashing the child's potential. This order of growing independence helps the children display learning away from the guidance of the teacher. They demonstrate that they are able to accomplish certain tasks by themselves and begin to control the learning process.